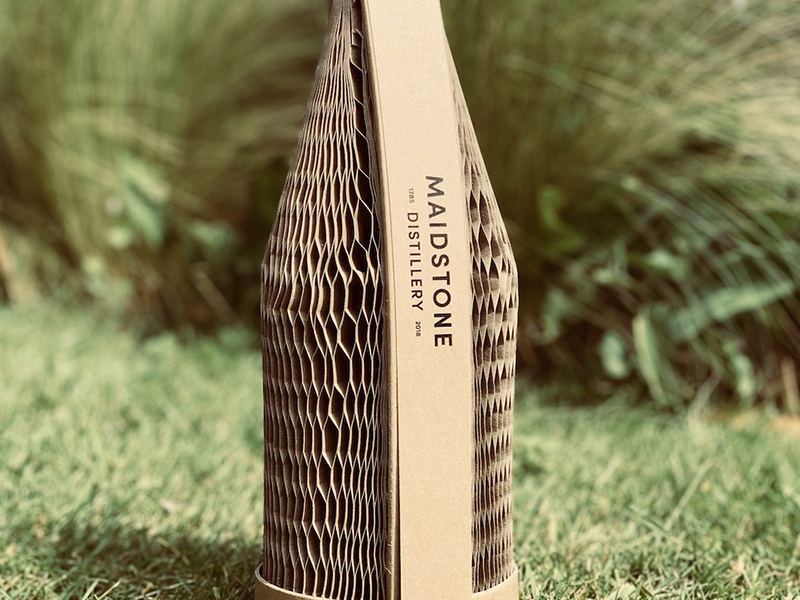 Maidstone never looked so good
We have been working hard with our design team to bring you a Distillery which will be at the heart of our county town, a great place to drop into for a coffee during the day, to learn about our craft, our spirits and our modern interpretation of the history that inspired us. To experience the art of distilling first hand in a fun and exciting way, through tours and experiences. To enjoy a drink in our premium bar and soak up the atmosphere of a working artisan Distillery.
We look forward to welcoming you.
Welcome to our seventh newsletter and to those who have joined us recently as well as our existing readership, thank you for all your support and encouragement. The Maidstone Distillery community continues to grow from strength to strength. You are a huge part of this Distillery and we are delighted to be sharing the journey with you.
History & Legacy
Our county town has played a significant role in our nation's distilling story, and we are determined to champion it. Two supporters have kindly provided us with a number of historic bottles with the name 'Maidstone Distillery' clearly embossed around the top of them. They are no doubt over 100 years old and would have contained spirit of some kind. We believe they originate from the second Maidstone Distillery which was run by Thomas Grant and his family, and distilled the acclaimed Morella Cherry Brandy, a spirit dubbed our national liqueur and drunk by Queen Victoria herself. We are being helped in our research to learn more about this Distillery once located on Hart street and have also arranged to meet a former worker who remembers working there as a boy – more to follow soon.
Maidstone Gin exported from London
Last month we also visited Queenhithe Dock, on the North Bank of the Thames between the Blackfriars and Southwark bridges. It is here that the Maidstone Distillery of the early 1800's used a warehouse positioned on the oldest known wharf in London to distribute the famed Maidstone Gin up and down the country as well as overseas to Europe and beyond. If you haven't seen it, take a look at our fascinating video on Instagram to find out more.
Be part of our Gin Tasting Panel
With the launch of our Founding Members' club we excitedly chose ten names in a prize draw to attend our first event, to meet the partners for our contemporary gin and forage for ingredients to be used in the actual recipe. How exciting! We are planning new events all the time and look to invite all Founding Members to attend at least one event: all unique and aiming to give our Members special behind the scenes access. If you haven't already, you could be in the running to attend one of our Tasting Panels, this one to help select our London Dry Gin recipe. The prize draw takes place on 5th July.
The Tasting Panel will be held later on this year at our new premises, before we open to the public. We will smell, taste and enjoy the blind tastings in a fun and relaxed atmosphere. It will be an excellent opportunity to learn about the process of artisan spirit making. The event will be hosted by our founders, and we will serve cheeses, charcuterie and breads. It should be an excellent night and a lot of fun!
Partnership creates new Gin
Very soon we will be revealing the details of our partnership with a very special national charity: a collaboration which will result in our contemporary gin, an expression of all the beauty of the Kent countryside and beyond. We are busy working up our recipe, bottle and label design, and we can't wait to tell you more. Our contemporary gin product will be released later in the year and will not only celebrate the work of this charity but will also provide a donation for every bottle sold. Stay tuned to find out more!
School Fundraisers and Summer Fayres
This month we have had the pleasure of meeting many like-minded gin and spirits enthusiasts and also had the opportunity to take our brand new mobile bar out for a spin! We loved the opportunity to meet people and talk about our Distillery and plans we have for the future. It is important to us that the distillery has a heart and soul and that is in large driven by you.
Visit to Whitstable Whisky
Our founder, Darren, was delighted to spend some time with Kieran of Whitstable Whisky to discuss the emerging English whisky scene and also the active London Whisky club. The club is a friendly and inclusive way for all levels of whisky enthusiast to try new whisky and learn more about the category. Although focussed on creating three distinct white spirits for our launch, Maidstone Distillery is keen to explore cask matured spirits at the earliest opportunity, and to put Maidstone back on the spirit map.
Our Story and Social Media
It's our best intention to keep you up to date and interested via our social media, so that you can follow the unique journey of our business start-up. This newsletter is the best way to stay informed and you can check out previous issues of our newsletter on our Website blog.
Thanks once again for coming along on our journey. Please help spread the word of Maidstone Distillery and feel free to contact us at any time.
Maidstone Distillery
Pride In Our Spirit Since 1785.