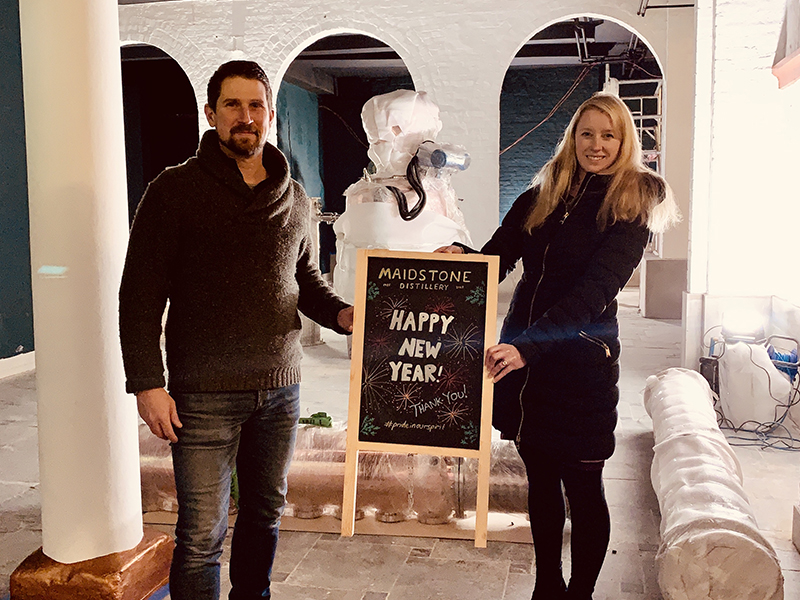 Thank You
As we prepare to say farewell to 2019 we can't help but look back at such an eventful year at Maidstone Distillery, and the gratitude we have for all the support and enthusiasm shown to following our start-up journey. We believe that you share our vision of a Distillery right in the centre of our county town, of celebrating our rich history through a modern interpretation of the past, and of creating spirits that not only taste amazing but have genuine stories to tell. We want you to be a part of our world and to have an immersive experience We now have our bespoke still, an amazing premises, a great team with great ideas and we are brimming with passion for what we do.
There is Pride In Our Spirit.
Welcome to our tenth newsletter and to those who have joined us recently as well as our existing readership, we hope you have had a great Christmas. It's a great time of year to reconnect with ourselves and others, and that feeling of community spirit runs deep here with us. As we get set to welcome 2020 tonight we raise a glass to you!
George Bishop London Dry gin
We have been very excited with the feedback for our George Bishop London Dry gin. We have had a lot of fun taste testing with our Founding Members, bar and restaurant owners, industry experts and of course our close-knit team. George Bishop feels like something of a founding father to us and we believe his story is one of national significance, of a man who wanted to excel his distilling knowledge to create a spirit which became famed during its day. A man who was prepared to break the mould, to challenge the establishment. Where would his gin of 1785 be today? We don't believe his spirit would have sat still, it would have evolved, continuing his vision of innovation and quality. Today, using a mix of fifteen exotic botanicals we believe we have created a spirit which in his name is both bold and complex, yet through a unique process of conditioning is smooth and polished. A delicious lip smacking London Dry gin, and we can't wait for you to try it. Welcome back, George.
Our Founding Member events have been brilliant fun and we have really enjoyed getting to know our members. We have another look behind the scenes planned for 15th January 2020 including a tasting of our George Bishop gin. Its not too late to become a Member, we have a few limited places still available. All Founding Members will be invited to our launch event including a guest.
The Distillery refurbishment continues and we are very pleased with the initial decoration. We have used a deep rich green on some walls accented by copper detailing under arches. We have electrical and mechanical contractors booked in to start work in January which we hope will start to bring the place alive. The spirit still assembly has begun which is keeping our founder Darren very busy, and it is looking great. We will have some video footage to share of its assembly in the New Year.
We are very pleased with all the branding work that is being completed by Zest. These guys are working tirelessly and are committed to our vision. Our logo, hallmark, name and tagline are now all protected trademarks, which sounds very official but gives us great piece of mind that Maidstone Distillery has carved out its own niche.
Maidstone Distillery now has a registered alcohol premises license and all of our Distilling licences have been applied for with the HMRC. We were visited by the local inspector before Christmas and we are pleased to say that the application is being broadly supported. All going well we should have a definitive answer during January.
Our Story and Social Media
It's our best intention to keep you up to date and interested via our social media, so that you can follow the unique journey of our business start-up. This newsletter is the best way to stay informed and you can check out previous issues of our newsletter on our Website blog.
Thanks once again for coming along on our journey. Please help spread the word of Maidstone Distillery and feel free to contact us at any time.
Maidstone Distillery
Pride In Our Spirit Since 1785.