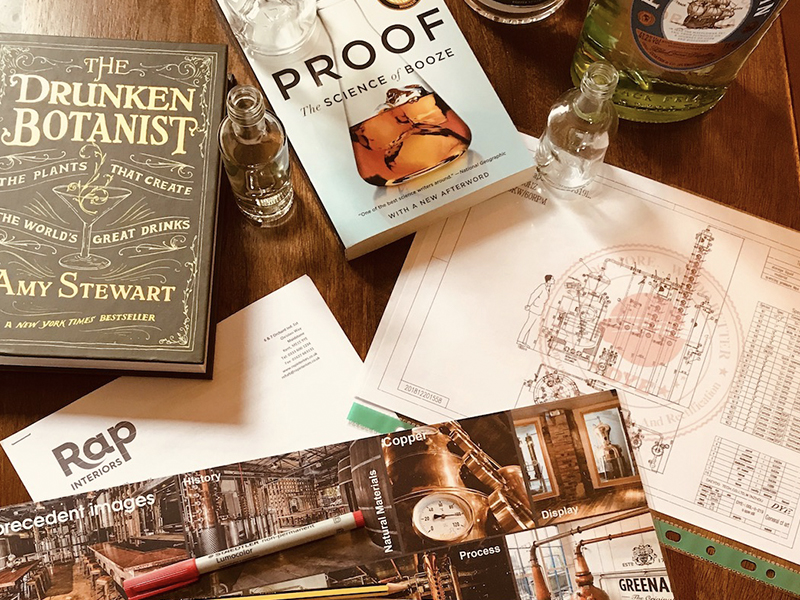 Pre – Planning Consultation Complete
We are delighted to announce that our pre-planning consultation has concluded and we are very close to submitting our planning application. Our plans and proposals have been supported positively and we now feel this is the right time to announce our location and follow up with the launch of the Founding Members' Club – keep an eye on social media and email, this will happen soon!
Welcome to our fourth newsletter and to those who have joined us recently as well as our existing readership, thank you for all your support. The Maidstone Distillery community is growing from strength to strength. You are giving us support, encouragement and valued insights into what you want from this Distillery. We are delighted to have you by our side.
Our Brand
Our Brand discovery has been a fantastic process and we have loved working with Zest to really get to the heart of what we are all about. In a nutshell we have developed FOUR brand promises which we make to you. We feel these are very important to us and we will measure the work of the Distillery by these, we hope you agree that we've got it right!
History- Firstly we will re-claim Kent's distilling history right here in Maidstone, our county town. We will champion this legacy, be custodians of this rich history, celebrate it and share with you all. We are all proud of this past and will make it a focal point as we carve out a new vibrant future together.
Community and Identity- Our Second brand promise is to build a sense of Community and Identity. We deliberately chose the name Maidstone Distillery to identify with our county town and the rich history of distilling here. We have been humbled and delighted with the contributions that people have made, from local historians to industry advisors, from community members to local businesses. We will offer the opportunity to become a Founding Member of the Distillery and will actively seek ways for people to be involved and engaged in what we do, and we will listen to you. We aim to contribute and create a sense of pride in Maidstone and this Distillery. And hopefully we will have some fun along the way too.
Quality- We will create remarkable products, which are distinct and unforgettable. Our spirits will be known for their exceptional taste and quality. We are working with an award-winning Master Distiller who matches our passion and is excited about our product ideas. We aim for each of our products to have its own identity and story, with a mind for connecting our spirits with our history, people and landscape. We will do our part to promote sustainability through our choices too.
Customer experience- Finally we aim to put you at the heart of the decisions we make, and to listen to what you say. We want to create a unique, interactive and engaging experience for visitors. We will have membership opportunities, special events and promotions that will really engage with our customers. Whilst we will have modest beginnings we have our sights on making the Distillery a true visitor destination.
Our Spirits
The story behind our second gin is completely different from our first. It is inspired directly from the landscape and countryside around us. We wanted to create something unique and "Kentish", but not content to stop there, we also want this gin to stand for something bigger and bolder. We want this gin to be thoughtful and emotive, a contemporary style, delicate, yet purposeful. Intrigued? We hope you are, it's making us thirsty!
Our Premises
We understand how important this is to people, and so we will be releasing this information very soon. We now feel confident enough with our planning aspirations that the proposal is being supported positively. Watch this space and even the local paper! In terms of our new premises we have been working with RAP Interiors to create something very special and it has got us all excited. It's one thing to talk about the Distillery, but soon we will be building it! It is an exciting challenge to create our vision for the Distillery, and we have some great minds helping to contribute. Know that we won't be rushed, although we want to open at the end of the summer, if it takes a little longer so be it. We want this to be right.
Founding Members' Club
Once we have released our location we will get straight onto the Founding Members' Club. This is a great way to put your name to this Distillery and in return get special access to some unique benefits. Your patience will be rewarded.
Our Distilling History
We have been delighted to work with members of the community to really shine a light on our fascinating connection with distilling here in Kent. Local historians have really helped contribute in a big way to our understanding and there is so much to be proud of, so much to celebrate. Thank you for these contributions, we appreciate it. We will be giving a lot of thought to how we present this at the Distillery.
Our Story and Social Media
It's our best intention to keep you up to date and interested via our social media, so that you can follow the unique journey of our business start-up. This newsletter is the best way to stay informed and you can check out previous issues of our newsletter on our Website blog.
Thanks once again for coming along on our journey. Please help spread the word of Maidstone Distillery and feel free to contact us at any time.
Maidstone Distillery
There's Pride In Our Spirit.